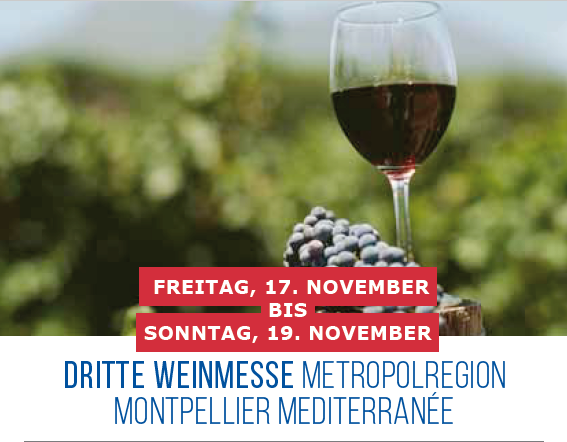 Third Wine Fair Metropolitan Montpellier Mediterranée
Over 60 wines to taste! The physical well-being will be provided. Haus der Begegnung, Merianstraße 1, 69117 Heidelberg, Friday 6 – 10.30 p.m., Saturday 1 – 10.30 p.m. and Sunday 12 – 7 p.m., admission VVK 14 euros (incl. wine glass + VVK fee), box office 20 euros, time slot of 2 hours.
Info and tickets: www.montpellier-haus.de, via Reservix or at the usual VVK points.
The minimum age for this event is 16 years (JuSchG).
After the growing success of the 2021 and 2022 editions, 16 winemakers from Montpellier will now arrive to present you their delicious wines.
The winegrowers are the architects of the landscapes and wine has been part of Montpellier's DNA, its cultural and natural heritage for over 2700 years. But it is also the future of the metropolis, where more than 200 winemakers are concentrated, as well as numerous centers for oenological research. Montpellier holds all the trump cards to become a wine capital with its own identity like Bordeaux, Dijon or Mâcon. An identity based a on the work of thousands of women and men who work in the vineyards to produce the best nectar and who are committed to sustainable agriculture.
Take the opportunity to talk to the winemakers, discover the great variety of terroirs and taste a wide selection of fine wines with an incomparable price-quality ratio.