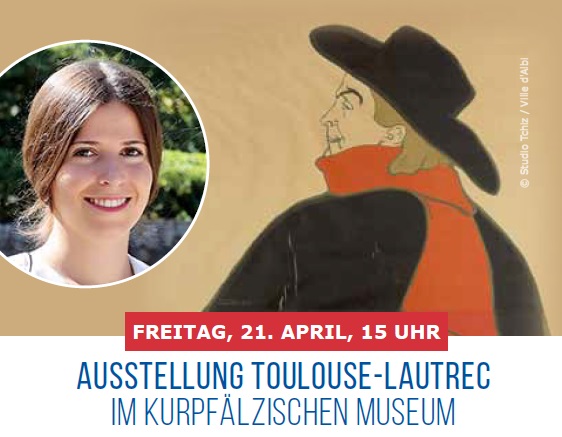 Exhibition Toulouse-Lautrec in the Kurpfälzisches Museum
Guided tour in French with Fanny Girard, director of the Musée Toulouse-Lautrec in Albi.
Kurpfälzisches Museum, Hauptstraße 97, 69117 Heidelberg, Germany
Admission exhibition 8 €, reduced 4,50 €, free guided tour
On the occasion of her visit to Heidelberg, art historian and director of the Toulouse-Lautrec Museum in Albi Fanny Girard will guide visitors through the exhibition at the Kurpfälzisches Museum. During this guided tour, famous lithographs by the artist (1864 – 1901) such as the advertising posters for Jane Avril, Aristide Bruant and Yvette Guilbert will be explained and compared to works on display in Albi.
Fanny Girard took over as director of the Toulouse- Lautrec Museum in the fall of 2022. After studying at the École du Louvre and training as a restorer, she had worked as a curator in various projects, including the Musée d'Orsay or the "Salon d'automne 2018" and assisted in projects for the preservation of monuments (including the restoration of Notre Dame in Paris).