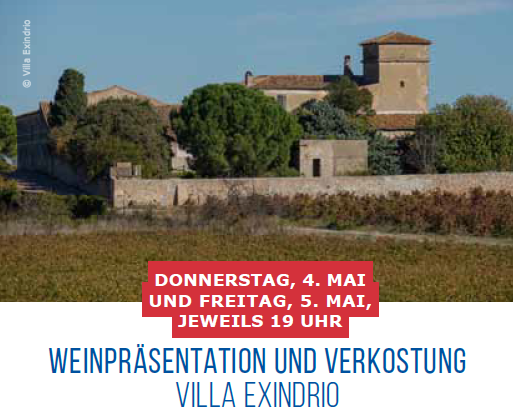 Wine presentation and tasting – Villa Exindrio
Wine presentation by the winemakers fr./dt.
Montpellier House, Kettengasse 19, 69117 Heidelberg, Germany
Admission 15 € (6 wines) – only on pre-registration with prepayment! Registration is requested by Monday, May 1, 2023 by 06221/16 29 69 or by email to anmeldung@montpellier-haus.de.
In the lee of Mont Saint-Baudile and surrounded by lagoons of the Mediterranean, lies the present winery. Villa Exindrio originated as a farm in Gallo-Roman times, over 2,000 years ago. Later the estate belonged to the French kings, who enlarged it and gave it to the bishops of Maguelone. The Garrigue terroir became truly famous from the 12th century onwards thanks to the Prelates, who built their cathedral on the Maguelone peninsula – just a stone's throw from the villa.
After the Revolution, the estate was sold to the Sicard family, who farmed it for seven generations. Since 2021, Clément and Mathilde Veyrac manage the winery, continuing the winemaking tradition of this place.
Participants will be guided through the tasting by Alexia Vassail, an employee of the winery.