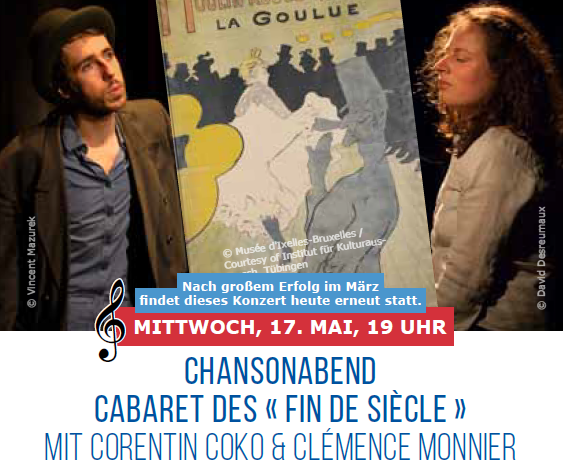 CHANSON EVENING : CABARET OF THE " FIN DE SIÈCLE "
Concert in the framework of the exhibition "La Bohème – Toulouse Lautrec and the Masters of Montmartre".
Kurpfälzisches Museum, Hauptstraße 97, 69117 Heidelberg,
Admission 14 €, reduced 10 €, reservations at: anmeldung@montpellier-haus.de
The concert, specially put together for the exhibition, will present popular songs from Toulouse-Lautrec's time, such as Le Fiacre, sung by Yvette Guilbert, or Le temps des cerises. Also on the program are the poets of the Chat Noir such as Jules Jouy or Aristide Bruant.
Corentin Coko (voc. and accordion) and Clémence Monnier (voc. and piano) will also perform lesser known songs from the time of the "Caf'Conc' ". Small forgotten pearls, but often stunning!
Corentin Coko, songwriter, pianist and accordionist from the South of France, loves songs of the "fin de siècle" and interprets them in his own way, sometimes humorous, sometimes committed, sometimes poetic. Clémence Monnier is a pianist and singer, including in the parody group "Les Goguettes," which gained national fame through YouTube videos during the pandemic.