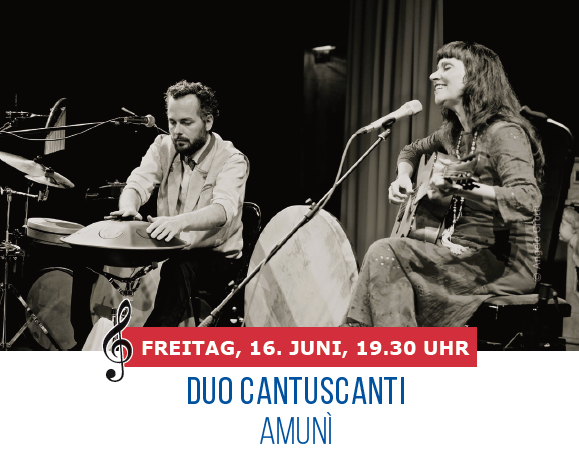 CONCERT DUO CANTUSCANTI : AMUNÌ
Songs and music from Sicily
Kulturfenster, Kirchstraße 16, 69115 Heidelberg,
Admission VVK 14 € / reduced 10 € + system fee
AK 18 € / reduced 14 €
"Amunì: "Let's go" is what it means in Sicilian. After the success in the summer of 2022 at the Film Days of the Mediterranean, the Italian-French duo Cantuscanti from Montpellier invites us again on a journey to the roots of the traditional music of this mythical island. With the guitar and the instrument common there, such as the frame drum, Liliana Di Calogero sings traditional songs passed down to her orally by her mother. But also her own compositions and new pieces will bring us the warm and melancholic Mediterranean culture to the Neckar. She will be accompanied by Theo Esnault, an early enthusiast of the Jew's harp and frame drum, important in Sicily, and a researcher of them in cultures all over the world. Her repertoire is an enchanting journey that takes the audience through the dances of the tarantella and the tender lullabies, singing stories of war, oppressed women, distant fathers and immigration, but also of love.