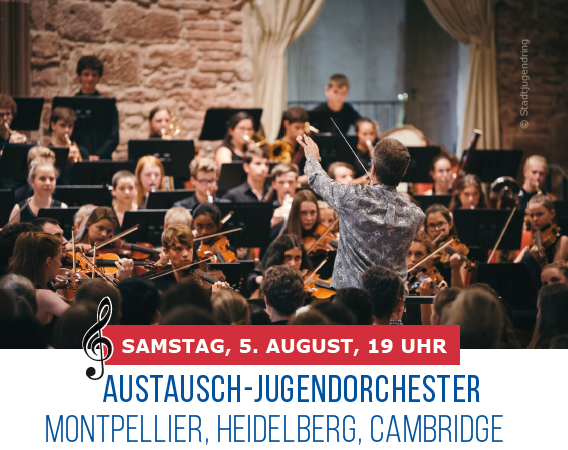 Youth Exchange Orchestra – Montpellier, Heidelberg, Cambridge
Festive concert with students of the music schools of the three twin cities
Großer Saal des Bürgerhauses Emmertsgrund, Forum 1, 69126 Heidelberg, free admission, admission from 6 p.m. onwards
In 1962, a group of young instrumentalists from Heidelberg left for Cambridge to participate in a working phase of the "Holiday Orchestra". This developed into an annual exchange of young musicians with Cambridge, which was then expanded in 1986 with the twin city of Montpellier (the Conservatoire Régional). This year, after the interruptions caused by the pandemic, the city of Heidelberg and thus the Stadtjugendring Heidelberg is once again hosting the exchange orchestra.
Around 100 young musicians from Heidelberg, Montpellier and Cambridge are expected in Heidelberg from July 27 to August 7, 2023. This orchestra will prepare a full-length program and present it to the audience at the end of its stay in a concert led by the three conductors Olivier Vaissette (Montpellier), Georg Schmidt- Thomée (Heidelberg), Matthew Gunn (Cambridge).
Program and further information at www.sjr-heidelberg.de