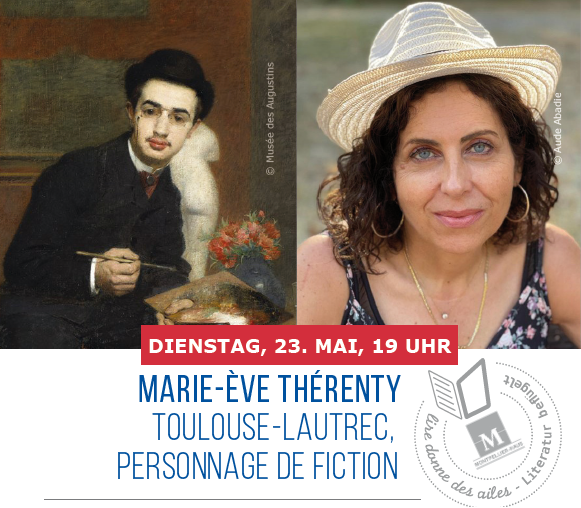 Marie-Ève Thérenty : Toulouse-Lautrec, personnage de fiction
Lecture in french as part of the exhibition "La Bohème -Toulouse Lautrec and the Masters of Montmartre".
Kurpfälzisches Museum, Hauptstr. 97, 69117 Heidelberg
Free entry
Henri de Toulouse-Lautrec constitue un personnage légendaire de la Belle Époque en raison de son origine aristocrate, son physique hors-norme, ses nuits passées à festoyer, sa fréquentation des prostituées et son oeuvre décapante … Il s'est plu dans le rôle de l'artiste marginal, anticonformiste, aimant les déguisements et les mystifications. Il a semblé aux romanciers de cette époque (Rebell, Mauclair, Maupassant, Zola, Tinan) pouvoir incarner de manière exemplaire la " décadence " fin-de-siècle. Il est en revanche sans doute beaucoup plus surprenant de voir resurgir, de manière très significative, sa silhouette dans des fictions d'aujourd'hui, romans policiers ou plus expérimentaux, bandes dessinées, manga, film …
Marie-Ève Thérenty, Professeure de littérature française à l'université Paul Valéry-Montpellier 3, est spécialiste entre autres du roman du XIXème siècle et des rapports entre presse et littérature. Elle a publié plusieurs ouvrages, dont " Femmes de presse, femmes de lettres. De Delphine de Girardin à Florence Aubenas " (CNRS éditions, 2019).