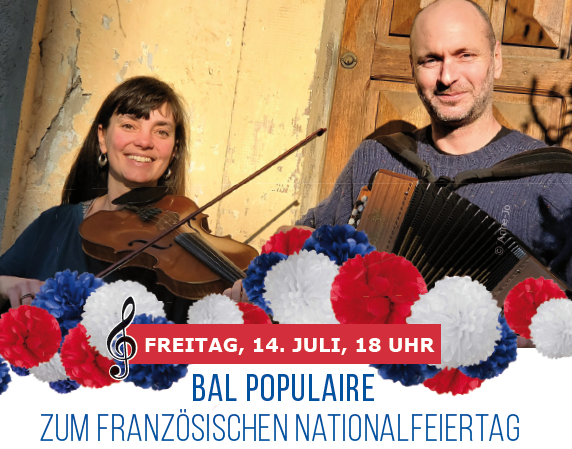 Bal populaire for the French national holiday
A Bal Folk with the duo "Come chez vous" – live music
In the courtyard of the Montpellier House, Kettengasse 19, 69117 Heidelberg, admission free
Also this year we are happy to celebrate the French national holiday with everyone who has a connection to France with a "bal trad", a traditional bal, as it is popular not only in France, and which will encourage us not only to listen but also to dance.
With the duo "Come chez vous" from Montpellier, the strings of the quinton (Lucile Marsac) and the bellows of the chromatic accordion (Simon Doué) meet and sound together with Occitan and French songs to thrill us to the sounds of traditional dance music from different regions of France and other countries.
We will again offer sunny wines from Montpellier and look forward to the delicious quiches and cheese plates of the Amicale F (French Circle of Friends at Bunsen High School), lovingly prepared by parents.
From 6 pm in the courtyard of the Montpellier House: the duo "Come chez vous" will introduce us to the dances of the Bal trad such as bourrée, gavotte, scottish …
From 19.00: The duo inspires us with traditional dance music
From about 10 pm: Everyone can sing along in the house Karaoké with FrenchHits of the 60s to today.