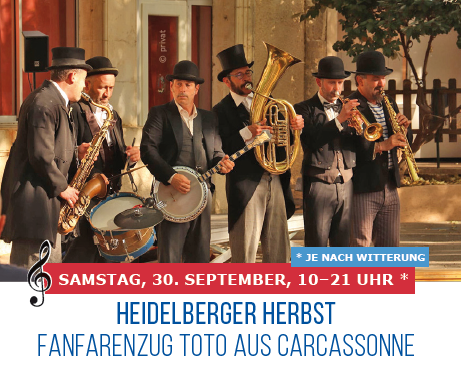 Heidelberger Herbst – Fanfare TOTO from Carcassonne
With music and catering from the south
in front of the Jesuitenkirche, Merianstraße 2, 69117 Heidelberg, Germany
Free entry
It has become a tradition for the Montpellier House to bring a fanfare band, which are numerous in France, to Heidelberg to enliven the forecourt of the Jesuitenkirche during the Heidelberger Herbst.
This year it invites the fanfare TOTO from Carcassonne: The six brothers "Locomotive" play a cheerful mix of music pieces of the last century, fair or film music, old jazz standards, some classical, old pieces and compositions, offering a real trip to the past, with a lot of tongue in cheek.
The caterer Adrien Guillard from Mèze, who presented us the last years his oysters, marinated mussels and other southern French specialties, brings again a whole assortment to spoil us the southern French way! The Montpellier House also continues to offer full-bodied wines from the Montpellier area to match. Also the Amicale F (the bilingual branch of the Bunsen High School) sells coffee and cakes, as well as other associations of the twin towns their regional products.
Performance times: approx. 11:45 a.m., 2 p.m., 4 p.m. and 6 p.m.