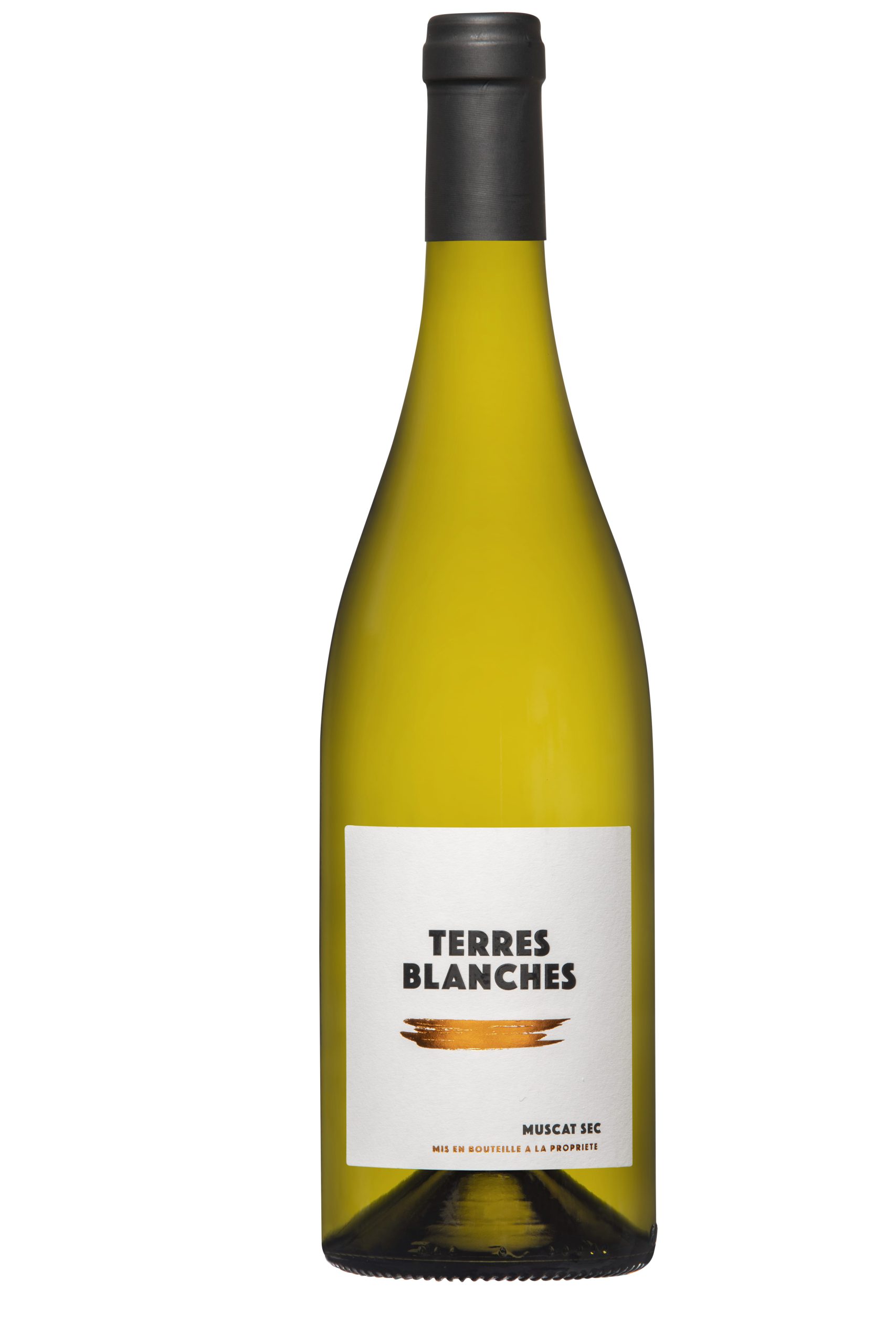 Cave des Vignerons de Frontignan: Muscat Sec Terres Blanches
Designation of origin: IGP Pays d'Oc
Grape varieties100% Yellow Muscat (Muscat blanc à petits grains)
Vintage: 2020/21
Alcohol by volume: 13%
Description: Destemmed grapes that undergo maceration on the skins. The grapes are then gently pressed.
Pre-clarification and fermentation at low temperature. Ageing on fine yeast.
Tasting notes: Pale yellow colour with green crystalline reflections. Very elegant and fresh on the nose, dominated by citrus fruits and mentholated nuances. Clear and lively on the palate, round and full-bodied at the same time. Slightly spicy with lemon flavours and menthol notes in the finish.
Food and wine pairing: Serve well chilled at 8° as an aperitif. It also goes wonderfully with meringue and grilled fish and is perfect with oriental cuisine (tajines, couscous..).
Cave de l'Ormarine: Picpoul Duc de Morny
Designation of origin: AOP Picpoul de Pinet
Grape varieties: 100% Piquepoul Blanc.
Vintage: 2021
Alcohol by volume: 13%
Description: Vineyards planted on slopes with alternating pine forests and garrigues. Loamy and calcareous, pebbly soil. Selection on the plot of vines over 15 years old. Night harvest to preserve freshness and aromas. Cold maceration before fermentation, fermentation at low temperature and storage in thermoregulated tanks. Filtration of the wines for bottling at the winery.
Tasting notes: Robe: Golden yellow with green reflections and a nice sheen, Nose: Generous, offering intense aromas of exotic fruits, then candied citrus peel, Palate: Nice balance, on a round base that expresses notes of exotic fruits and citrus. After an enveloping attack, the palate is enlivened by the famous acid ridge typical of wines from this terroir.
Food and wine pairing: Develops its full flavour as an accompaniment to bouillabaisse, soups, fish fricassee, squid, Mediterranean stews, seafood and shellfish. It can also be served as an aperitif.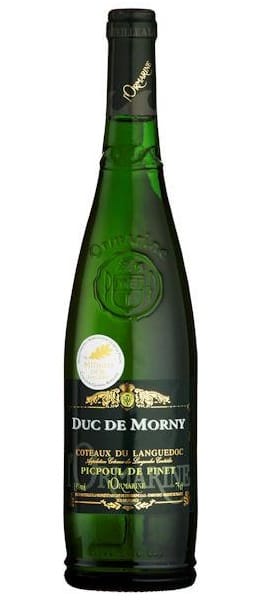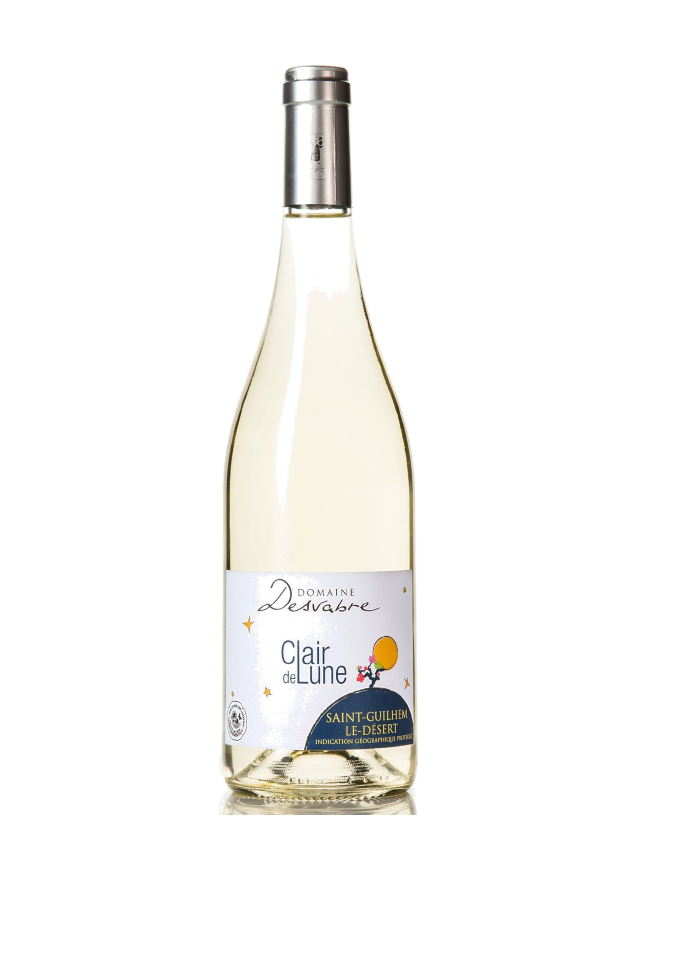 Domaine DESVABRE: Clair de lune
Designation of origin: IGP St Guilhem-le-Désert
Grape varieties: Chardonnay, Vermentino
Vintage: 2022
Alcohol by volume: 13,3%
Description : Guilhem-Le-Désert in der Gemeinde Gignac.
Clay/limestone soil.
The different grape varieties are vinified separately in order to have more leeway in the assemblage.
Tasting notes: Aromas of citrus, broom and white stone fruit stand out on the nose. In the mouth, one finds aromas of grapefruit and fresh pineapple.
Food and wine pairing: It is a fresh and fruity wine. It goes perfectly with seafood, fish in sauce or even fruit desserts.
Designation of origin : Vin de Pays des Collines de la Moure
Grape varieties : Terret Blanc – Terret Gris – Terret Noir 70 %, Chardonnay 30%
Vintage: 2021
Alcohol by volume:13%
Description: Terroir: limestone slopes from the Jura, limestone with pebbles from the Villafranchien.
Vinification: Direct pressing, static pre-clarification, fermentation without yeast, temperature controlled (18-20°). The wines are matured in tank on fine lees. 10 hl/ha

Tasting notes: The aromatic potential only fully unfolds after three years. Very round on the palate with fullness and good nervousness. Beautiful length, finesse and purity.


Villa Exindrio : Vent d'Anges
Designation of origin: AOP Muscat de Mireval
Grape varieties: 100% Muskateller (muscat petits grains).
Vintage: 2021
Alcohol by volume:16%
Description: Manual harvest at the beginning of October at full maturity (20% potential alcohol), yield 27 hl/ha, vinification: fermentation at low temperature with alcohol stubbles.
Storage in the air-conditioned wine cellar.
Tasting notes: Shiny golden robe, Powerful and complex nose with floral and menthol notes, plenty of fat for a very fresh, fine and elegant mouth with
a nice length.
Food and wine pairing: Enjoy the Cuvée Vent d'Anges, served very cool, as an aperitif,
with foie gras or Roquefort or as a dessert with a fruit tart, an orange cake or a dark chocolate cake.